Have you taken my advice and grabbed the Chase Sapphire Preferred credit card? Then you're eligible for a buy one, get one FREE movie ticket, during Fridays this summer.
It's not just the Sapphire Preferred, but any credit card that is a Visa Signature. Visa is running a special promotion this summer, allowing you to get a free movie ticket when you reserve via Fandango for film showings on Friday. H/T to Million Miles Secrets.
The process is simple.
Head over to the Visa Signature/Fandango page and enter in some information to see if you're eligible, such as your card number and your zip code. If there are theaters near you that are participating, you'll see them.
Many popular chains like Regal and AMC ARE participating so you should be able to find one near you.
Select the film you want to see
In this example I chose "Spy"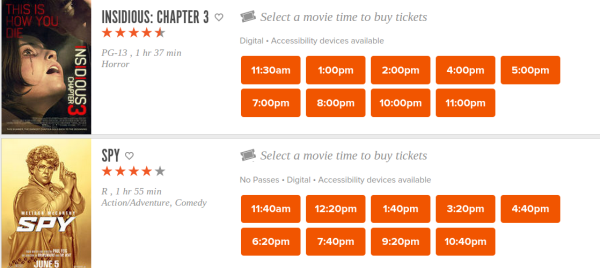 Select 2 tickets
You'll see the discount right before you check out

Remember you do need to go through the special Visa/Fandango link, and won't get the discount if you show up to the theater. And since Fandango levies a convenience fee, you will spend some money that way.
However as you see above, I would have saved more than $13 from the cost of my ticket, covering much more than the convenience fee.
So if you are planning to go to a movie with two people, this is a great way to save some money.
This promotion is taking place EVERY friday during the summer, and with your Visa signature you are supposedly able to book tickets for your friday showing as early as Wednesday.
Good luck!